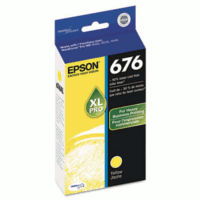 Buy More, Save More
$39.95
Epson T676XL420 OEM High Yield Yellow Ink Cartridge
Item Code: T676XL420-OEM
Yellow
Non Stocking / Non Refundable
Reasons why we stand out from the rest
Lowest

Prices,

Largest

Selection,

Best

Value.

1 year Money back Guarantee

. We stand behind our products and pay shipping on returns.
Quality driven, we make sure the products we provide are manufactured under

ISO 9001 Quality Standards

.
Professional Customer Service via Live Chat and Toll-Free.

We are here to help.
Epson T676XL420 OEM High Yield Yellow Ink Cartridge Description
InkjetSuperstore.com offers low prices on EPSON T676XL420 OEM/Original Ink Cartridges. These are 100% brand new and manufactured by EPSON. Genuine EPSON T676XL420 OEM/Original ink cartridges generate clear prints, crisp images, and dark text with every print. Buy the original EPSON T676XL420 for your EPSON printer at a discount price.

What is a OEM/Original Ink Cartridge?

EPSON T676XL420 Original (OEM) Inkjet cartridges are the same ones that come with your EPSON printer. They are manufactured by EPSON which makes the printers. EPSON OEM/Original Inkjet Cartridges are generally the most expensive type but have the best print quality. They are not refilled, remanufactured, or recycled by a third party. They are brand new OEM/Original Inkjet Cartridges in a sealed box. Depending on your specific needs and budget, you can save money by choosing a remanufactured EPSON T676XL420 inkjet cartridge. InkjetSuperstore.com offers the most complete selection on EPSON original inkjet cartridges at every-day low prices.
$39.95
47673
itemid
T676XL420-OEM
Name
Epson T676XL420 OEM High Yield Yellow Ink Cartridge
Description
Our high-quality EPSON OEM Inkjet Cartridge are fully guaranteed and environmentally friendly - giving you crisper- sharper printouts every time. Lowest Prices on EPSON Inkjet Cartridge.
Price
$39.95
MSRP
46.58
Barcode
Dropship
Yes
Discontinue
No
Aggregated_stock
0
Thumbnail
http://www.inkjetsuperstore.com/epst676xl420oemth.gif
Thumbnail_2
Img
http://www.inkjetsuperstore.com/epst676xl420oem.gif
Img_2
specification-Color
Yellow
specification-Condition
OEM/Original
specification-Drum Type
N/A
specification-OEM Part#
T676XL420, Epson 676xl, 676xl
specification-Page Yield
1200
specification-Printer Manufacture
EPSON
specification-Printer Type
Ink Cartridge
specification-multi-fields