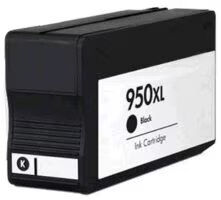 Buy More, Save More
| | |
| --- | --- |
| Quantity | Price |
| 1 – 2 | $9.49 |
| 3 – 5 | $9.10 |
| 6 + | $8.45 |
Remanufactured High Yield Black Inkjet Cartridge for HP 950XL (CN045AN)
Item Code: CN045AN-60
Black
Non Stocking / Non Refundable
Reasons why we stand out from the rest
Lowest

Prices,

Largest

Selection,

Best

Value.

1 year Money back Guarantee

. We stand behind our products and pay shipping on returns.
Quality driven, we make sure the products we provide are manufactured under

ISO 9001 Quality Standards

.
Professional Customer Service via Live Chat and Toll-Free.

We are here to help.
Remanufactured High Yield Black Inkjet Cartridge for HP 950XL (CN045AN) Description
The hp CN045AN Ink Cartridge Black Remanufactured Ink Cartridge are replacement Ink Cartridges that are manufactured not by the OEM (Original Equipment Manufacturer) HEWLETT PACKARD, but by a third party. This product is similar to the original and meets our stringent quality standards. The Remanufactured hp CN045AN Ink Cartridge Black carries a 1 year Money Back Guarantee. So, in addition to getting all the benefits of a genuine hp CN045AN Ink Cartridge Black product, you also get a price benefit when you buy the Remanufactured hp CN045AN Ink Cartridge Black.

What is a Remanufactured Ink Cartridge?

The hp CN045AN Ink Cartridge Black Remanufactured Ink Cartridges are replacement ink cartridges that are manufactured not by the OEM (Original Equipment Manufacturer) hp CN045AN Ink Cartridge Black, but by a third party. These cartridges will function and work in the same way that an OEM Ink Cartridge would. They are designed to replace the original cartridge and fit into your specific HEWLETT PACKARD printer. Not an OEM cartridge.
Product Reviews
Write a Review
No problem
First time switching from OEM to remanufactured & had no problems.
cpt
great product, just received and have been buy for all my printers at this site. I still print a lot in Black this time of year, tax season, and so want to have extra in stock. The price is great and the time from my order to my home is very fast, 3 to 5 days so couldn't be happier.
Captain Lewis E Jorgenson, US Army(ret)
Glendale, Arizona
2/14/2015
Black is Black
Just like the HP it replaces, no problems, printer does recognize that it is not OEM but it still gives the ink level and all services you would get with an HP cartridge without the high price. A good buy.
Cartridges
Ordered this for my son's college roommate's printer. Roommate said this was a great price, worked well, Very pleased with the order.
Charlotte Cerne
Va
6/27/2014
cptlew
I have been purchasing here since early 2010 and always am surprised by the fast service and reasonable prices. Even their brand names are less then the local stores and by enough to easily justify any shipping and handling charge that may exist. This company works very hard to PLEASE the customer and unfortunately it is very hard to find that in any local stores today, thanks.
Cpt. Lewis E. Jorgenson
Glendale, Arizona
2/5/2014
HP950XL
I have been extremely satisfied with this remanufactured cartridge.
Robet Mills
Oceanport, NJ
11/4/2013
Love!
It is nice not to have to pay a fortune for great quality ink for my HP Office Jet. I will never pay for name brand again!
M. Bird
Jacksonville, Fl
11/2/2013
lovely
I love the ink and it works with my printer every time. I just love the price and the quality of the cartridges they work flawless.I would recommend them to everyone.
quality
I like the price and quality of this product. Just as good as the original manufacture HP
Jennifer from Century 21 Acclaim
Brandon, FL
7/9/2013
HP Remanufactured Black Ink
We have bought this product twice now and it is well worth its price. The 2300 yield is accurate and product is as good as the name brand.
Century 21 Acclaim
Brandon, FL
3/27/2013
$9.49
47820
itemid
CN045AN-60
Name
Remanufactured High Yield Black Inkjet Cartridge for HP 950XL (CN045AN)
Description
Price
$9.49
MSRP
24.75
Barcode
Dropship
Yes
Discontinue
No
Aggregated_stock
1
Thumbnail
http://www.inkjetsuperstore.com/HP_CN045AN-950XL-BLK_COMP.jpg
Thumbnail_2
Img
http://www.inkjetsuperstore.com/HP_CN045AN-950XL-BLK_COMP.jpg
Img_2
specification-Color
Black
specification-Condition
Remanufactured
specification-Drum Type
N/A
specification-OEM Part#
CN045AN, HP950XL, hp 950xl
specification-Page Yield
2300
specification-Printer Manufacture
HEWLETT PACKARD
specification-Printer Type
Ink Cartridge
specification-multi-fields