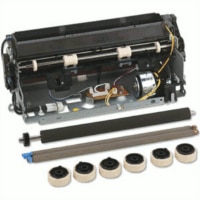 Buy More, Save More
| | |
| --- | --- |
| Quantity | Price |
| 1 – 2 | $307.99 |
| 3 – 5 | $297.99 |
| 6 + | $294.99 |
Get fast answers
from customers
IBM Infoprint 1532/1552/1572 Original (OEM) Laser Toner Maintenance Kit (110V)(40X0100)
Item Code: 40X0100-OEM
Non Stocking / Non Refundable
Reasons why we stand out from the rest
Lowest

Prices,

Largest

Selection,

Best

Value.

1 year Money back Guarantee

. We stand behind our products and pay shipping on returns.
Quality driven, we make sure the products we provide are manufactured under

ISO 9001 Quality Standards

.
Professional Customer Service via Live Chat and Toll-Free.

We are here to help.
IBM Infoprint 1532/1552/1572 Original (OEM) Laser Toner Maintenance Kit (110V)(40X0100) Description
The ibm 40X0100 Toner Cartridge OEM/Original Laser Cartridges are 100% brand new and manufactured by IBM. Genuine OEM/Original laser cartridges generate clear prints, crisp images, and dark text with every print. Buy the original ibm 40X0100 Toner Cartridge for your IBM printer at a discount price.

What is a OEM/Original Laser Cartridge?

ibm 40X0100 Toner Cartridge Original (OEM) Laser Cartridges are the same ones that come with your IBM printer. They are manufactured by IBM which makes the printers. IBM OEM/Original Toner Cartridges are generally the most expensive type but have the best print quality. They are not refilled, remanufactured, or recycled by a third party. They are brand new OEM/Original Toner Cartridge in a sealed box. Depending on your specific needs and budget, you can save money by choosing a remanufactured ibm 40X0100 Toner Cartridge toner cartridge. InkjetSuperstore.com offers the most complete selection on IBM original toner cartridges at every-day low prices.
$307.99
2509
itemid
40X0100-OEM
Name
IBM Infoprint 1532/1552/1572 Original (OEM) Laser Toner Maintenance Kit (110V)(40X0100)
Description
Our high-quality IBM OEM Laser Cartridge are fully guaranteed and environmentally friendly - giving you crisper- sharper printouts every time. Lowest Prices on IBM Laser Cartridge.
Price
$307.99
MSRP
421.00
Barcode
Dropship
Yes
Discontinue
No
Aggregated_stock
0
Thumbnail
http://www.inkjetsuperstore.com/lex40x0100oemth.gif
Thumbnail_2
Img
http://www.inkjetsuperstore.com/lex40x0100oem.gif
Img_2
specification-Color
specification-Condition
OEM/Original
specification-Drum Type
N/A
specification-OEM Part#
40X0100
specification-Page Yield
300000
specification-Printer Manufacture
IBM
specification-Printer Type
Laser Cartridge
specification-multi-fields